Sea Kayaking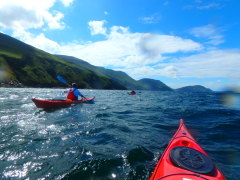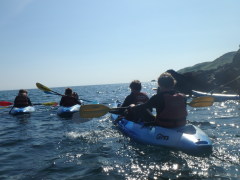 The Isle of Man offers the perfect place to experience the adventure of sea kayaking.
The Islands extensive wildlife and dramatic coastline are perfect to enhance your kayaking experience with each trip typically seeing many seals and a variety of sea birds. A sea kayak allows you to get a closer view of the coastline of the Isle of Man and explore caves and coves which are restricted to small vessels.
Tuition can be given to complete British Canoeing performance awards and trips can be arranged to suit you.
These trips are run throughout the year. They are open to people of any kayaking ability and aim to use various sections of the Islands coast throughout the year. All equipment and instruction is included. Longer day trips, multiple day trips or evening paddles can be booked by arrangement, just give us a call or email us to discuss your requirements.
We offer sea kayaking in closed cockpit kayaks as well as sit on top, double and single kayaks.
£25 per person for approximately 2 hours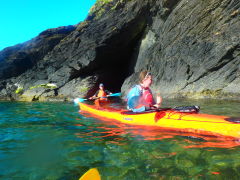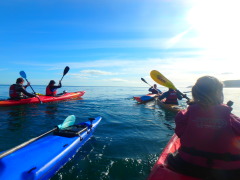 Swimming Pool Kayaking training
These sessions provide a warm and sheltered area to practice kayak safety skills or learn to roll. They are ideal for people new to the sport who want to gain more confidence, or people who want to perfect their roll. We can give tuition for all types of safety skills including rolls and rescues. All equipment and tuition included. These sessions are usually run during the colder months of the year as during summer our lake in Ramsey offers a shallow safe area to practice these skills.
Contact us for details
Overnight Sea Kayak Expedition
Great for Families and groups of friends
This weekend is perfect if you have been on coastal sea kayaking trips with us before and want to progress to a short expedition, or just want the experience of a longer kayak journey. We will be travelling self sufficiently along the coast of the Isle of Man for two days with an overnight camp inbetween. All equipment is provided including boats, instruction etc. Food is not included.
By arrangement
Island Based Sea Kayak Expedition
By arrangement
This expedition lets you explore the coast of the Isle of Man, while camping out in secluded coves and beaches. Large areas of the coast will be covered and everyone will hopefully find areas they have never seen before. Plenty of wildlife shouldl be seen over the expedition including seal, puffins and hopefully basking sharks! We hope topaddle around the island during this time-weather permitting. We would expect participants to be intermediate paddlers and have attended safety sessions before hand.