Mooragh Park Boating Lake Booking
Mini golf and Boat hire is available from 11am-5pm on Weekends, Bank Holidays and School holidays from Easter throughout the summer.
Boat hire is currently not available to book online but just turn up to hire any boat or call us in advance to check opening times and availability.
We will be closed in cases of poor weather.
Prices
Double Sit on top kayak £10per 30mins Maximum 2people
Stand Up Paddleboard Hire £10per 30mins Maximum 1adult/ 2small children
Canadian Canoe £5per 30mins Maximum 2adults and 1 small child
Pedalo Hire £8per 30mins Maximum 4 people
Rowing boat £5per 30mins Maximum of 5 people
Mini golf £2.50 per person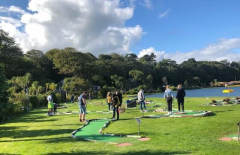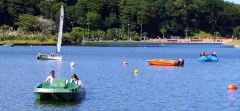 Mooragh Lake Slippage Permit
User Guidance
Permit for non powered craft for use on Mooragh Park lake
Permit is not transferable .
Permit is for non commercial use
We expect all water users to be safe and competent to operate their vessel and take all reasonable safety precautions. Venture Centre groups and boat hire users should be given priority when on the lake.
Limited to daylight use only.
Do not stand on boats or boards within 2 metres of the lake bank.
You must have the ability, skill and equipment to deal with any reasonably foreseeable incident on the lake.
Do not jump or dive into the lake.
Wear appropriate footwear (no bare feet).
Hazard

Who may be harmed

Control measures

Drowning

All lake users

All lake users must wear personal floatation device (buoyancy aid).

Medical emergency

All lake users

Check level of health prior to use. As with any activity participants must ensure they operate within their fitness and health limitations.

Impact with solid surface

All lake users

Guidance given prior to use of lake signage and also on booking site. Do not stand in or on boats or boards within 2 metres of the lake bank.

Covid 19 airbourne transmission due to Close proximity to other lake users

All lake users

Follow Isle of Man Government social separation guidance at present this at least 2 metres separation from persons not in your household.

Covid 19 contact transmission

All lake users

Wash all equipment prior to use.

Wash hands prior before and after activity.

Weather

All lake users

Lake users should only operate in weather conditions they have the ability to cope with.

Impact with lake bottom due to diving in lake

All lake users

Signage at arrival and launching point. Depth markers exists in lake indicating lake depth. Part of guidance on online booking.

Water quality

All lake users

Water quality regularly monitored by

Sluice gates / issues relating to filling of lake

All lake users

No person in area of small pond or area immediately around bridge when lake is being topped up. Monitored by duty staff member.
Just give us a call on 814240 and we will book a slot.
Maximum if 1 launch slot per day