Mooragh Park Boating Lake Booking
User Guidance
The Mooragh Park Boating Lake Ramsey is now available for use by unpowered craft
This is for own boat use at present we hope to offer boat hire in the near future.
Book you session on line below or call 814240
Launch slots available at 30 minute intervals to allow social distancing
Do not use the lake if you are feeling unwell or have symptoms of Covid 19 or have Covid 19.
Stay at least 2 metres from persons from other households when on and off the water
Do not stand on boats or boards within 2 metres of the lake bank.
You must have the ability, skill and equipment to deal with any reasonably foreseeable incident on the lake.
Do not jump or dive into the lake.
Wash equipment before use.
Wear appropriate footwear (no bare feet).
Wear personal floatation device (PFD) Buoyancy Aid when on water
All children must be supervised on the water my a responsible adult
Wash your hands regularly
Catch coughs and sneezes in a tissue or crook of your arm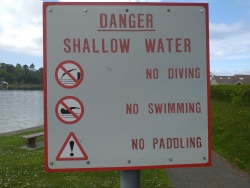 Please note all changing room facilities will be closed due to Covid 19.
Hazard

Who may be harmed

Control measures

Drowning

All lake users

All lake users must wear personal floatation device (buoyancy aid).

Medical emergency

All lake users

Check level of health prior to use. As with any activity participants must ensure they operate within their fitness and health limitations.

Impact with solid surface

All lake users

Guidance given prior to use of lake signage and also on booking site. Do not stand in or on boats or boards within 2 metres of the lake bank.

Covid 19 airbourne transmission due to Close proximity to other lake users

All lake users

Follow Isle of Man Government social separation guidance at present this at least 2 metres separation from persons not in your household.

Covid 19 contact transmission

All lake users

Wash all equipment prior to use.

Wash hands prior before and after activity.

Weather

All lake users

Lake users should only operate in weather conditions they have the ability to cope with.

Impact with lake bottom due to diving in lake

All lake users

Signage at arrival and launching point. Depth markers exists in lake indicating lake depth. Part of guidance on online booking.

Water quality

All lake users

Water quality regularly monitored by

Sluice gates / issues relating to filling of lake

All lake users

No person in area of small pond or area immediately around bridge when lake is being topped up. Monitored by duty staff member.
Just give us a call on 814240 and we will book a slot.
Maximum if 1 launch slot per day