Family Adventure
Family Residential Multi-Activity Adventure Courses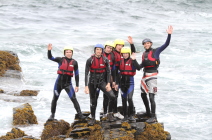 During weekend and school holiday periods the centre is open to family groups. It is an ideal venue for active families who wish to spend quality time together taking part in a range of outdoor activities. You can visit us for a few hours, a day or for a full residential visit. We will put together a range of activities to fit in with your requirements.
All programmes are subject to alteration due to extenuating circumstances.
What will we do during a visit to the centre?
Activities available include ;
Archery,

Air rifle,

Assault course

ZipLine

Abseiling

Crate stacking challenge

Kayaking

Sea Kayaking

Canoeing

Dinghy sailing,

Gorge walking,

Campcraft,

Off road cycling,
Sight seeing,

Orienteering,

Raft building,

Team building events,

Power boating
Do we all have to join in?
This is your holiday. Our instructors are here to ensure you enjoy your visit. We work with you to provide you activities which you are keen to participate in and of course if some of your family wish to just watch this is fine.
Accommodation
Usually a family of four will be split over 2 rooms.We will accommodate your group as appropriate to the age and gender of your family.
What if children are under 9 years?
We cannot guarantee any activity provision will be provided for under 9's. We do ask that if you have any youngsters of age 8 years or under then we need you to be present when activity sessions are taking place.
All courses include:-
All meals whilst at the centre
Ferry travel from and return to Isle of Man
Bunkhouse accommodation
Activity programme of 2 activity sessions per day
All on island transport
Prices Apply 2014
4 day 3 night stay £710 based on 2 adults and 2 children
5 day 4 night stay £890 based on 2 adults and 2 children
Just call us for a quote for other party sizes and other lengths of stay.
Available 2nd August - 22nd August 2014
Full package holidays are available in conjunction with Isle of Man Event Services
Half day sessions from £20 per person
Activities available include ;
Archery,
Air rifle,
Assault course
ZipLine
Abseiling
Crate stacking challenge
Kayaking
Sea Kayaking
Canoeing
Dinghy sailing,
Gorge walking,
Campcraft,
Off road cycling,
Sight seeing,
Orienteering,
Raft building,
Team building events,