Dinghy Sailing

The Venture Centre have been offering sailing tuition for over 15 years We provide training to individuals , adults, children, families, schools, youth groups and social clubs.
We use single hander topper and RS Tera sailing dinghies and laser bahia and RS Feva Crewed Dinghies. Most sessions are based on Mooragh Park Lake although we occasionaly run sessions in Ramsey Bay. The Venture Centre Is a RYA Approved sailing school.
Below is a list of the courses and lessons we have on offer for the 2019 season. Other courses may run due to demand and can be organised for groups of 4 or more people. If what you want is not here then just contact us to discuss your requirements.

Beginners (RYA Stage 1/2)
This week is for people who have never sailed before or who have attended one of our introductory sessions on the Mooragh Lake. The sessions run for one and a half hours a day and aim to introduce you will the basic skills to control your own boat, and follows the RYA stage 1 syllabus. Skills that are covered include tacking, rigging a boat, safe launch and recovery, sailing a triangular course and different points of sail. This course will be based on the Mooragh Park Lake and mostly take place in single handed dinghys.
Dates- 2019 Monday 12th August - Friday 16th August 9.30 - 11.00
Cost- £75 per person for all 5 sessions. Other dates / times may be available subject to demand and for groups of 4 or more
Improvers (RYA Stage 2/3)
This week is perfect if you already hold the stage one certificate or feel you already have the necessary skills to skip the level one. This week runs to the RYA stage 2 syllabus and covers more advanced skills than the Stage 1 certificate including; upwind sailing, downwind sailing and gybing. The course will take place mostly in single handed dinghys but some tuition may take place in our asymmetric training dinghy.
Dates - 2019 TBC, Monday to Friday, 9:30am-11.00am
Cost- £75 per person for 5 sessions
Other dates / times may be available subject to demand and for groups of 4 or more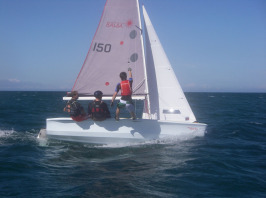 Boat hire only safety cover will be on hand just incase
Inlcudes wetsuits, buoyancy aids, helmet hire if required and boat hire only
You will be expected to be competent enough to rig and launch and put away your own boats at a minimum of RYA stage 2 or Level 2 Certificate
Sessions available 6.30 - 8.00 p.m. - To Be Confirmed
Cost- £5 per person
Areas of Operation
Our sessions are based either on the picturesque Mooragh Park Lake an ideal location for learning basic skills. The winds and confines of the lake make this an ideal learning environment with convenient cafe for refreshments. Our team of instructors are ready to help you learn quickly and get the most out of your sailing. For the more confident sessions are run on the more exposed waters of Ramsey Bay.
Courses Offered
RYA Start Sailing Stage 1
RYA Stage 2
RYA Stage 3
RYA Stage 4
RYA Level 1
RYA Level 2
RYA Level 3
RYA Seamanship Skills
Staff
Michael Read RYA Senior Instructor (Coastal)
Simon Read RYA Senior Instructor (Coastal)
David Read RYA Senior Instructor (Coastal)
Matthew Read RYA Senior Instructor (Coastal)
Amie Shute (RYA Dinghy Instructor)
Safety
All sailing sessions are fully safety covered by one of our fleet of Safety boats manned by one of our staff. All staff are fully police checked, hold the appropriate RYA Qualifications and all lessons are run under the supervision of one of RYA Senior Instructors.
We look forward to helping you get the most out of your sailing